This is a Dutch-language ABC of Puppetry ('poppentheater-abc') with nearly five hundred entries. This section
contains an explanation of the terms, expressions, concepts, puppetry techniques, characteristic
puppet theatre figures and important people.

Pretty Polly
Personage uit de Engelse volkspoppenkast.
Zij is jong, mooi en uitdagend.
Ze brengt Mr Punch in verleiding.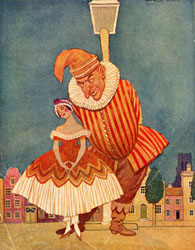 Illustratie uit: The tragedy of Mr. Punch: a fantastic play
in prologue and one act.
Auteurs: Russell Thorndike, Reginald Arkell.
Impressum: Duckworth, London (1923).
Stamboeknummer: 74.494.