This is a Dutch-language ABC of Puppetry ('poppentheater-abc') with nearly five hundred entries. This section
contains an explanation of the terms, expressions, concepts, puppetry techniques, characteristic
puppet theatre figures and important people.

Kijkkast
Kastje met een of meer ronde, vaak van een vergrootglas voorziene gaatjes, waarin de kijkkastman - veelal op de kermis - beroemde personen, veldslagen en dergelijke kon vertonen aan de kermisgangers.
Zie ook Peepshow, Rarekiek, Doepak nr. 142 en Pamflet nr. 64.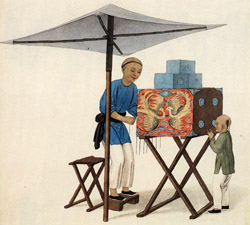 Illustratie uit: Peepshows: a visual history.
Auteur: Richard Balzer.
Impressum: Harry N. Abrams, New York (1998).
Stamboeknummer: 73.686.