This is a Dutch-language ABC of Puppetry ('poppentheater-abc') with nearly five hundred entries. This section
contains an explanation of the terms, expressions, concepts, puppetry techniques, characteristic
puppet theatre figures and important people.

Sierpop
Pop die niet voor theaterdoeleinden maar als siervoorwerp gemaakt is, zoals een pop in klederdracht.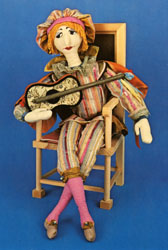 Illustratie uit: Commedia dell'Arte at the court of Louis XIV:
a soft sculpture representation.
Auteur: Peter A. Bucknell.
Impressum: Stainer & Bell, London (1980).
Stamboeknummer: 73.722.