This is a Dutch-language ABC of Puppetry ('poppentheater-abc') with nearly five hundred entries. This section
contains an explanation of the terms, expressions, concepts, puppetry techniques, characteristic
puppet theatre figures and important people.

Opwindpop
Figuur met van binnen een veer als bij een uurwerk. Als deze wordt opgewonden gaat de pop bewegen.
Zie ook Mechanische pop.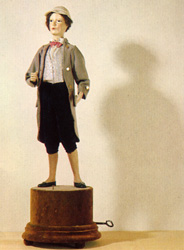 Illustratie uit: The marvellous world of music machines.
Auteur: Heinrich Weiss-Stauffacher.
Impressum: Office du Livre, Fribourg (1976).
Stamboeknummer: 70.487.