This is a Dutch-language ABC of Puppetry ('poppentheater-abc') with nearly five hundred entries. This section
contains an explanation of the terms, expressions, concepts, puppetry techniques, characteristic
puppet theatre figures and important people.

Laterna magica
Apparaat voorzien van een projectielens. Uitvinding van Christiaan Huygens (1659).
Zie Toverlantaarn.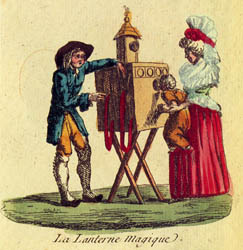 Illustratie uit: Peepshows: a visual history.
Auteur: Richard Balzer.
Impressum: Harry N. Abrams, New York (1998).
Stamboeknummer: 73.686.